2008 presidential Map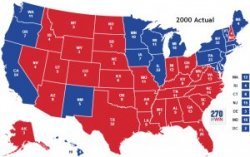 2008 Election Results
Candidate
Party
Electoral Votes Popular Votes Barack H. Obama Democratic 365 69, 456, 897 John S. McCain Republican 173 59, 934, 814 The 56th quadrennial United States presidential election was held on November 4, 2008. Outgoing Republican President George W. Bush's policies and actions and the American public's desire for change were key issues throughout the campaign. During the presidential election campaign, the major-party candidates ran on a platform of change and reform in Washington. Domestic policy and the economy eventually emerged as the main themes in the last few months of the election campaign after the onset of the 2008 economic crisis.
Democrat Barack Obama, then junior United States Senator from Illinois, defeated Republican John McCain. Nine states changed allegiance from the 2004 election. Each had voted for the Republican nominee in 2004 and contributed to Obama's sizable Electoral College victory. The selected electors from each of the 50 states and the District of Columbia voted for President and Vice President of the United States on December 15, 2008. Those votes were tallied before a joint session of Congress on January 8, 2009. Obama received 365 electoral votes, and McCain 173.
There were several unique aspects of the 2008 election. The election was the first in which an African American was elected President. It was also the first time two sitting senators ran against each other. The 2008 election was the first in 56 years in which neither an incumbent president nor a vice president ran — Bush was constitutionally limited from seeking a third term by the Twenty-second Amendment; Vice President Dick Cheney chose not to seek the presidency. It was also the first time the Republican Party nominated a woman for Vice President (Sarah Palin, then-Governor of Alaska). Additionally, it was the first election in which both major parties nominated candidates who were born outside of the contiguous United States. Voter turnout for the 2008 election was the highest in at least 40 years.1
You might also like
U.S. Presidential Elections 1789-2008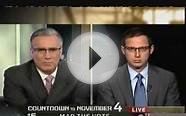 Countdown: NBC Electoral Map Nov. 3, 2008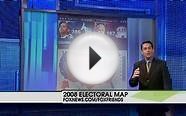 Fox News Elections 2008 Battlegrounds Interactive Map by ...
AAA Orange County Guide Map, California, Usa: Bolsa Chica Ecological Reserve, Disneyland, Knott's Berry Farm, Mission San Juan Capistrano, Old Towne Orange, Orange County Fair, Orange County Performing Arts Center, Richard Nixon Presidential Library: (Details on Theme Parks, Museums, Parks & Gardens, Sports & Event Venues, History & Architecture, Major Routes & Recreation: AAA Explore Series 2008, 2008549541400904)
Book (ACSC)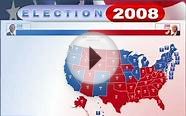 Electoral Map Update - 10/25/2008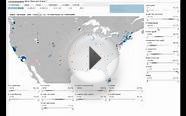 Visual data analysis of the 2008 US Presidential election ...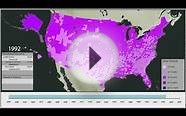 Presidential Election Turnout, 1976 - 2008
Popular Q&A
Have you seen this neat map for 2008 presidential candidates' fund raising? | Yahoo Answers
I noticed that the chart ends in September.
If you include the $4.3 million Ron Paul raked in the other day, it will put him ahead of Thompson.
And should elevate him a 1st tier candidate.