California electoral votes history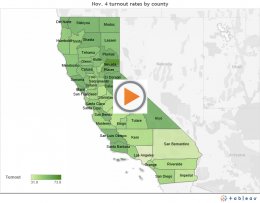 All the pieces were in place before last month's general election to set a new low for voter turnout in California, from scant competition in top statewide races to the shortage of titillating ballot propositions.
Mission accomplished.
Though three small counties have yet to report, voter turnout in the midterm election stood Monday at just 42.2 percent, and isn't expected to change significantly. That will obliterate the state's modern-era record for voter apathy of 50.6 percent in 2002, when Gov. Gray Davis cruised past Republican Bill Simon.
"I wasn't surprised that we broke the record, " said Mindy Romero, director of the California Civic Engagement Project at UC Davis. "I was surprised, and I am very concerned, that we actually smashed it."
Elections experts had anticipated a turnout of roughly 46 percent, with the Field Poll estimating 8.2 million of the state's nearly 18 million registered voters would cast a ballot in the Nov. 4 election. The actual number of voters has reached just over 7.5 million, with final figures to be certified by Dec. 12.
Abysmal participation is raising fresh concerns about whether this was merely an unusual year or the quickening of a downward trend. Nationally, early projections show turnout at its lowest point in any election cycle since World War II, according to the United States Election Project.
Experts cite a range of components that could be contributing to low turnout: changing demographics, shifting party affiliation, declining homeownership and growing poverty levels. In the June primary, just 25.2 percent of registered voters participated in California.
Secretary of State-elect Alex Padilla, whose job it will be to oversee state elections, called the fall results "a reminder that we have our work cut out for us."
In his home county of Los Angeles, for example, turnout was just 31 percent of registered voters. Some legislative and congressional candidates there won seats despite drawing support from only a small slice of the district's residents.
"Every county is different, " Padilla said. "You still have those counties where you have 70 percent turnout. And then you have L.A. County. It's a shame."
Even so, turnout among registered voters tells just half the story, said Eric McGhee, a research fellow at the Public Policy Institute of California.
In a post-election analysis, McGhee wrote that the figure effectively ignores all of the likely residents who were eligible to vote but didn't register. Turnout among eligible voters was just 31 percent – a full 17 points behind the average for midterm elections since 1922, he wrote.
California's turnout in midterms has been on a downward march since the mid-1950s. Turnout has stabilized and even climbed a bit, however, in recent presidential elections. In 2012, turnout exceeded 72 percent; and in 2008, during President Barack Obama's first run for the office, it nearly hit 80 percent.
"This is not just a general disaffection with government that prevents people from participating, " McGhee said in an interview. "The problem is mostly midterms."
You might also like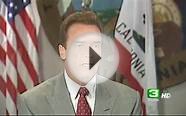 Governor Speaks On Iraq War, Electoral Votes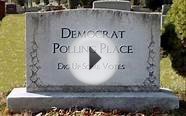 Dead Elector Votes in California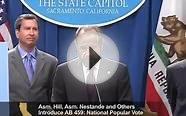 California Lawmakers Introduce Electoral Vote Legislation ...
How are you going to vote?: the platforms of the Republican and Democratic parties ; including the electoral and popular vote for 1912 and 1916, and a ... of the origin and history of each party
Book (University of California Libraries)