Vote in federal State and local Elections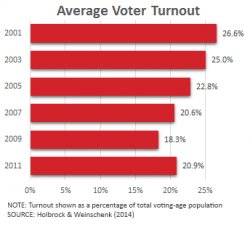 Just over a fifth of registered voters cast their ballots in the Los Angeles primary and runoff elections that ushered in Mayor Eric Garcetti last year. The elections continued a persistent downward trend in voter participation that's not limited to Los Angeles. In New York, Bill de Blasio won a landslide election that similarly saw the lowest voter turnout since at least the 1950s. More recently, just over a quarter of voters showed up for the District of Columbia's hotly-contested mayoral primary – the lowest turnout in more than 30 years.
Voter turnout for local elections, typically held in off-cycle years, has historically lagged behind state and federal races set to take place in November, but suggest it's slowly becoming even worse.
University of Wisconsin researchers provided Governing with elections data covering 144 larger U.S. cities, depicting a decline in voter turnout in odd-numbered years over the previous decade. In 2001, an average of 26.6 percent of cities' voting-age population cast ballots, while less than 21 percent did so in 2011. Turnout for primary and general local elections fluctuate from year to year, but long-term trends in many larger cities suggest voter interest has waned.
Aaron Weinschenk, who studies the issue at the University of Wisconsin, said it's possible that turnout in municipal elections could still drop lower. "I wonder if the negativity surrounding government in general is seeping into local government, " he said, "and polluting politics at all levels."
If local turnout doesn't improve, the implications could extend much further than the ballot box. Low-turnout elections typically aren't representative of the electorate as a whole, dominated by whiter, more-affluent and older voters. Recent research published by a UC San Diego professor found such elections contribute to poorer outcomes for minorities, including uneven prioritization of public spending.
Long ago, political machines routinely mobilized a healthy cadre of big city voters with often predictable results. Later, during the 1960s and 70s, more than two-thirds of registered voters cast ballots in New York, Los Angeles and elsewhere when power shifted to racial and ethnic minorities. But now, voter participation in big cities is typically low, prompting officials to explore ways to get more people out to the polls.
In Los Angeles, officials formed an elections reform commission after the city's dismal turnout in 2013. Commission Chairman Fernando Guerra, who directs a research center at Loyola Marymount University, attributes the city's declining turnout rates to a lack of partisan competition from Republican candidates and a diminishing racial divide. "No longer is a Latino running for mayor a major challenge to the status quo, " he said. Municipal candidates may hold different views on a few issues, but when they're of similar backgrounds and political leanings, the differences appear less stark to voters.
You might also like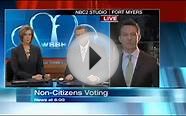 Illegal Aliens Caught Voting and Stealing Elections In ...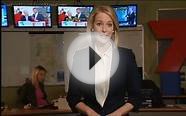 Federal Election Update - Seven Local News Queensland (2013)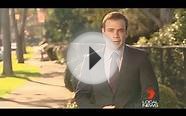 Federal Election Campaign Begins - Seven Local News ...
To guarantee the right of all active duty military personnel, merchant mariners, and their dependents to vote in federal, state, and local elections : ... Budget Office) (SuDoc Y 1.1/8:105-183/PT.1-)
Book (U.S. G.P.O.)