New Voter card form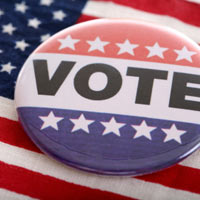 Register to Vote in New Mexico
To sign up to vote in New Mexico, visit your local county clerk's office and fill out the voter registration form. You may also print out a nationalVoter Registration Application and mail it to your local county clerk or to the office of the New Mexico Secretary of State (SOS).
NOTE: If you're using the national application, be sure to follow the instructions specific to New Mexico.
If you submit your form by mail, you'll also need to include copes of:
Photo identification.
Proof of name and residency (e.g. utility bill, paycheck, bank statement, etc.).
You can also register to vote when you apply for a driver's license orID card, or renew your license or ID, at a New Mexico Motor Vehicle Division (MVD) office.
New Mexico Voter Eligibility
There are a few basic requirements you must meet in order to be eligible to vote in the United States and to register in New Mexico:
You must be 18 years old by Election Day.
You must be a U.S. citizen.
You must be a resident of New Mexico.
If you have been convicted of a felony, you must have had your civil rights restored.
You must not have been judged mentally unfit.
If you intend to vote in an upcoming election, you must register to vote at least 28 days before the event.
Deadlines to Register to Vote in NM
You must submit your NM voter registration information at least 28 days before an election. Your registration will be accepted until the Friday following the official deadline, but it must be dated or postmarked at least 28 days before the election.
Out-of-State Voter Registration
If you are from NM and stationed outside of the state in the military (or as a military dependent) or living overseas, you can register to vote online through the Federal Voter Assistance Program (FVAP).
You will need a driver's license or NM ID card to complete the online application. The application also acts as a request for a ballot, so you do not have to complete a separate step for that.
The county clerk's office will also send you a waiver of secrecy form, which you must sign and submit.
Change Your Name or Address
If you need to change your name or address on your New Mexico voter registration card, you must complete a new voter registration application.
See the section "Register to Vote in New Mexico" above for more information.
Voter ID Laws in New Mexico
While you don't need a special voter ID, you do need identification to vote in New Mexico. You must provide one of the following:
A physical form of ID, such as a driver's license, utility bill, or bank statement.
A verbal or written statement that states your name, year of birth, and residence address.
Sangu 100% Hand Painted Wood Framed 3-piece Hot Sale Plum Flower Oil Paintings Gift Canvas Wall Art Paintings For Living Room.


Home (Eve's Temptation)




Size: 20x20Inchx3 (50CMx50CMx3).
Subject:Plum Blossom;
Materials/Milieu: Thick Canvas, high quality oil or Acrylic colors. The depth is 2/3Inch (1.7CM).
100% hand painted. Actual painting may be slightly different from the product image.
Gallery wrapped and stretched with wooden frame on the back. Ready to hang. Edges are painted. A perfect wall decoration for living room and bed room.