California State voting results
Though there were few attention-grabbing statewide races or ballot measures, Californians headed to the polls Tuesday to cast their votes in the 2014 midterm, re-electing Gov. Jerry Brown to an unprecedented fourth term.
Polls closed at 8 p.m. and results trickled in over the course of the evening, but the gubernatorial election was called in favor of Brown almost immediately by the Associated Press.
Turnout was predicted to be low in the state, which had few of the galvanizing races or the kinds of divisive issues on the ballot that were at stake elsewhere in the country, where Republicans earned enough seats to take control of the U.S. Senate for the first time since 2006.
Nonetheless, a slew of statewide offices were set to be determined. More than 17.8 million Californians were registered to vote in the election, according to the Secretary of State's office.
Brown had been expected to easily win over Republican challenger Neel Kashkari, a former investment banker who oversaw the federal government's bank bailout under for the Bush and Obama administrations. Lt. Gov. Gavin Newsom won a second term, and all the other top statewide offices were before voters too.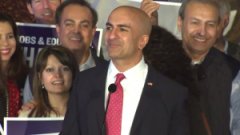 Kashkari congratulated the governor in his concession speech from Costa Mesa, challenging Brown to "be bold" in his next term. In a statement, Kashkari said his campaign had "laid the groundwork for a Republican comeback in California."
Minutes later, speaking outside the governor's mansion in California, Brown called his fourth term a "gift." He said the state was going in a "progressive" but "fiscally responsible" direction.
"I'm going to do my utmost to live up to the promise of California that brought my great-grandfather ... here to Sacramento in 1852, " Brown said.
Brown had 57 percent of votes with about a quarter of precincts reporting; Kashkari had 43 percent.
Most of the statewide races have proved less than thrilling, with an exception from an unexpected item on the ballot: the nonpartisan race for superintendent of public instruction. Union-backed Tom Torlakson, a former legislator and teacher, was seeking a second term, while charter schools advocate and reformer Marshall Tuck was looking for an upset.
With about 30 percent of precincts reporting, Torlakson was ahead with 54.1 percent of the vote.
Statewide, all 80 Assembly seats were before voters, as were 20 state Senate seats and all 53 of California's seats in the U.S. House of Representatives.
Several congressional races had drawn attention: state Sen. Ted Lieu's effort to take over retiring Rep. Henry Waxman's seat, based in Los Angeles' Westside. He was facing Republican Elan Carr, a gang prosecutor who was the surprise winner of the crowded June primary field.
Ventura County Democrat Rep. Julia Brownley was seeking to hold on to her seat, with a challenge from Republican Jeff Gorell.
Two Inland Empire contests were close as well. Republic Paul Chabot was facing off with Redlands Mayor Pete Aguilar, a Democrat, for the seat of retiring Republican Rep. Gary Miller in San Bernardino County.