Jefferson County voting results
Updated:

It's Week 8 of high school football in Kentuckiana, and the WDRB Sports Team has you covered for all the action with more in-depth coverage than any other station.More >It's Week 8 of high school football in Kentuckiana, and the WDRB Sports Team has you covered for all the action with more in-depth coverage than any other station.More >
The suspect was booked into Metro Corrections Wednesday morning.More >The suspect was booked into Metro Corrections Wednesday morning.More >
LOUISVILLE, Ky. (WDRB) - The county-wide results of a primary election recanvass are in, and the totals in Jefferson County remain unchanged for the races of Republican candidate for governor, as well as the GOP candidate for agriculture commissioner.
That's according to WDRB political reporter Lawrence Smith.
After election night, James Comer was behind Matt Bevin by 83 votes statewide.
If Comer was hoping to pick up few votes here in Kentucky's largest county, he did not get them.
The election center staff took about 45 minutes to re-scan 548 memory cards taken from both the paper ballot and touch screen voting machines.
Jefferson County Clerk Bobbie Holsclaw says she is relieved, but not surprised, that the results did not change.
"Well I'd like to be able to say to everyone that they know now that everything is counted, everything is fair in Jefferson County, " Holsclaw said. "We certainly opened the doors to anyone who wanted to witness it. And we're delighted with the results, and I hope the public is too - and the voters."
The same process is happening in all 120 counties, and we should know the results very soon.
If Bevin remains in the lead, Comer must decide whether he will concede to Bevin or ask for a much more extensive and expensive recount - an expense his campaign would have to pay.
By the way, state Rep. Richard Heath asked for a review after losing to fellow state Rep. Ryan Quarles in the state agriculture commissioner's race by more than 1, 400 votes.
Secretary of State Alison Grimes says her office will be putting all the results online.
"Transparency is an important element of ensuring confidence and integrity in our elections, " Grimes said. "My office is committed to providing information as quickly as possible, and we'll make the results available online."
You might also like
Delhi Assembly Elections 2015: Voting on Feb 7, Results on ...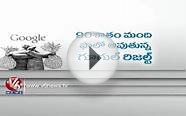 American Institute Research : Google Search Results Impact ...
Cool Cars - Vote It! Cool or Not?


Mobile Application (ILOapps)




COOL CARS - watch and vote for and share cool cars. It is your vote that counts!
The application shows you pictures of cool cars, such as sports, luxury and tuning cars shared by people worldwide. See a picture of Ferrari, Lamborghini, Bugatti...
Features:
✔ New picture upload system
✔ New automated picture voting system
✔ Easy-to-use
✔ Suitable for any device
✔ Compatible with all Android versions from v1.6 onwards
✔ Free!
This application uses internet connection to download car pictures, voting data and all other car information. Initial download may take some time but successor...
Popular Q&A
What are the Talladega county voting results?
County Elections Register to vote, look up registration status, find voting and polling locations, view election results. Talladega Board-Registrars PO Box 6170 Talladega, AL 35160 Phone: (256) 761-2132