Flagler County Election results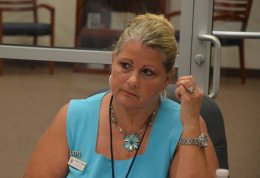 Last Updated: 6 p.m.
Six years into her tenure–and halfway through her second term–Flagler County Supervisor of Elections Kimberle Weeks has resigned. Weeks announced her resignation in a letter today "To All It Will Concern, especially the Flagler County voters, " citing family and health concerns, but also numerous budgetary and political grievances.
Weeks's resignation is effective Tuesday. Kaiti Lenhart, the assistant supervisor of elections, will be in charge of the office. Weeks is recommending to Gov. Rick Scott, who will be responsible for naming the next supervisor, to appoint Lenhart to the position. Lenhart, 33, has a sharp, no nonsense and self-assured work style but is also more approachable, quicker than her ex-boss with smiles, and unafraid of that rarest of assets in the Weeks years: wit. She has been at the supervisor's office almost six years.
Weeks announced her decision to her staff and to poll workers in a three-page letter this morning that lacked none of the combative verve that characterized her years in office. "Yes, that is true, and she submitted that letter to us today, " Lenhart said.
Weeks's resignation comes after her most contentious year in office, though her six-year tenure has been fraught with conflict from the start, whether over budgetary wrangles with the Flagler County Commission, disagreements over the consolidation of precincts, the issuance of bonuses to staff or, more recently, conflicts with Palm Coast and the county over election matters. At no point, however, had Weeks–who could combine stubbornness and self-righteousness with remarkable tenacity and conviction that what she was doing was for the benefit of voters–intimated that she was thinking of quitting the $98, 000-a-year elected post. Weeks was the leading vote-getter among all local races when she was reelected in 2012.