Electoral College map 2012
Has an extremely narrow path to an electoral-college comeback victory, a trend that has befallen the Republican Party's presidential nominee every year since the 1988 election.
Not since George H.W. Bush and Dan Quayle swept through the Electoral College map in 1988 has a Republican been able to breeze through a presidential election.
The reasons behind the GOP's tight electoral spot actually have little to do with Romney, and more to do with shifting demographics that favor President Barack Obama. The reality of the 2012 election is this: Obama has the luxury of being able to hold on to most of the states he won in 2008. Romney, on the other hand, has no room for error and needs to make some impressive comebacks in swing states to capture the election.
"It's not an exaggeration to say that Mitt Romney faces the toughest path to victory in recent memory, " Marquette Law School pollster Charles Franklin.
Here's a look at the map of "safe" and "leaning" states for each candidate. There's a built-in advantage for Obama that gets him close to 270 votes, even without the battleground states:
That's a big shift from just 24 years ago, when Bush and Quayle romped to a 426-111 electoral-college victory over Michael Dukakis and Lloyd Bentsen.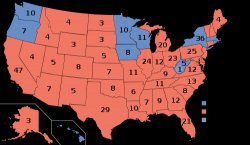 Wikimedia Commons
Republicans dominated the electoral map with the candidacies of Ronald Reagan and George H.W. Bush in the 1980s. Starting with Richard Nixon in 1972, the Republican candidate won four of the next five elections with at least 400 electoral votes. But no Republican candidate — not even the victorious George W. Bush in 2000 and 2004 — has garnered more than 286 electoral votes since 1988.
Shifting demographics and Republicans' failure to take advantage has pushed former Republican strongholds into blue — or at least purple — territory.
"This is the concern among Republicans, " Franklin said. "Looking at the demographics of the next 20 years, the groups that are growing are the groups that are leaning Democratic."
The changes are perhaps most evident in Virginia, which has seen an influx of younger women and Latino voters — who traditionally lean Democratic — into the northern part of the state. The result: After going red for 10 consecutive elections, Virginia shifted blue in 2008.
In North Carolina, too, there has been an influx of workers from the Rust Belt and Northeast that have helped make the state a toss-up. Until 2008, North Carolina had sided with Republicans in every election since 1980.
Republican strategists lament the fact that their party has shunned some of these groups — like Latinos, many of whom have been turned off by the GOP's hard line on immigration.
"At some point soon, the Latino population is going to get so huge that without a good percentage of the Latino vote in key states, any candidate is going to lose, whether they're Republican or whether they're Democrat, " said Lionel Sosa, a former Reagan adviser who has worked on seven presidential campaigns.
As a result, Romney is boxed in to an electoral college strategy that leaves him with few options. If he loses Florida, for example, he has to win Ohio, Iowa, New Hampshire, Colorado, Wisconsin Virginia to get past 270. If he wins Florida but loses Ohio, he still faces the implausible path of winning New Hampshire, Iowa, Nevada, Virginia and Colorado.
You might also like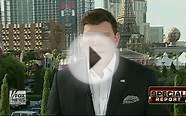 Where does electoral map stand?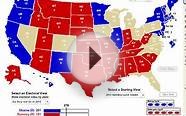 Electoral College Breakdown - October 19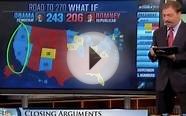 Chuck Todd - electoral map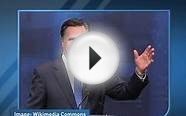 Electoral College Prediction Model Points to Romney Victory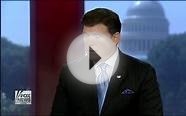 Rove, Trippi break down the electoral map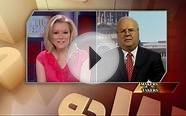 Electoral College's Impact on 2012 Election
2004 Presidential Election Electoral College Battleground, Bush versus Kerry Your Complete Guide to the Contested Election Laws, Rules, and Court Cases on Recounts, Challenges, Voting Equipment, Ballots, Help America Vote Act (HAVA) and the Federal Election Commission, Voting Rights Act, Civil Rights and Disenfranchisement, Provisional Ballots, Voter Fraud and Intimidation, Military and Overseas Ballots, Florida 2000 Recount and Supreme Court Cases (DVD-ROM)


Book (Progressive Management)



Popular Q&A
When does the electoral college vote in the 2012 election?
The Electoral College is the institution that officially elects the President and Vice President of the United States every four years. They vote during the same hours the the popular vote is held.