Apply Voter-Id online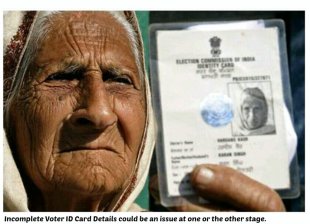 Benefits of Applying online for voter ID card
Applying for voter id card or election card online is very convenient and time saving process. Here are some advantages of applying a voter id card online. These points will help you to understand why you should go with online registration instead of offline registration.
It helps you to escape long queues and a lot time wasting steps.
You can apply whenever you want to apply and you can easily get your new voter id card at your door step by post.
You can also check your voter id card status, and when you apply online you also get automatic update of your card status.
Applying online also reduces your time of getting your card. Online registration helps you to get your card within a month whereas in offline registration it will take around 9-10 months.
Find Your Voter ID Card Here:-
How to apply online- Detailed Step By Step guide It is very easy to apply for a voter id card online. You need to check your name in before you apply for a new Voter ID. After checking you can proceed further.The web sites are different for each state. The sites are user friendly and easy to use. Also the sites are available in local languages of that particular state.
Go to enrollment for a new card.
Fill up e-mail id, mob. No. and state of yours. Then you will allot a login id and password.
Log in and enter your details.
Find out Form6 and Fill all required details.
Attach a passport size photo.
Then you will redirect to confirmation page. Confirm the details you entered and submit your form.
Successful submission page will be open and a success e-mail will be sent to you.
You have successfully applied for voter id card. You need to verify your documents by submitting hard copy at Voters facilitates center. Once it is done you are done with apply process. Now you can check and after you get your election card, you can complete process on
Successful submission for voter id card online
In starting only chief electoral officer (CEO) of individual states were responsible for online registration for voter id card but now both Electoral commission of india and chief electoral officer of each state are responsible authorities for online registration of voter id card online. This was first introduced by state of karnataka in middle of year 2011. Today a large number of youth apply online for their voter card.
General Election Voting In The Navy 1892 Old Prints


Home (old-print)




Special indroductory offer
Original old antique victorian print, not a modern reproduction
100% Satisfaction Guarantee
Size and details in description below, Email for any missing image or description
Shipped WORLDWIDE next day, AIRMAIL from head office in Scotland allow 15/21 days for delivery