Voter fraud in 2012 presidential election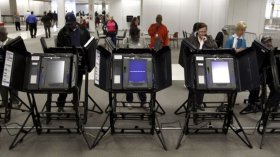 Oct. 2, 2012: Voters cast their ballots at a Franklin County polling location on the first day of in-person absentee voting in Columbus, Ohio. (Reuters)
Ohio Secretary of State Jon Husted announced Wednesday that his office found 17 non-citizens illegally cast ballots in the 2012 presidential election - and has referred the case for possible prosecution.
The alleged crime would be a notable case of voter fraud in a key swing state. By law, only American citizens are allowed the privilege of casting ballots for the nation's leaders.
Ohio officials say that did not stop some from getting around the system.
"I have a responsibility to uphold election law, and under both federal and state law you must be a citizen to vote, " said Husted, a Republican who has aggressively tried to investigate voter fraud cases in his state.
Husted also found that 274 non-citizens remain on the voting rolls.
President Obama beat Mitt Romney in Ohio by just 2 percentage points in November 2012.
As part of Ohio's efforts to clean up the voting rolls, election officials discovered that more than 257, 000 dead people were still listed as active voters. Their names and status, Husted said, have since been removed.
In addition, election authorities note they have drastically reduced the number of duplicate registrations, from 340, 000 in 2011 to just four this past November - and that more than 370, 000 Ohio voters who have moved have been contacted to update their voting information.
"Now that we have the ability to cross-check citizenship information with Ohio's voter rolls, I will continue to be vigilant and to push the General Assembly for additional tools to modernize our elections systems, making it easy to vote and hard to cheat, " Husted said.
Voting advocates have long complained that some of the country's voter fraud investigations amount to voter suppression, aimed at preventing minorities and others from voting. But supporters say the efforts only are aimed at preventing voter fraud and maintaining the integrity of the electoral process.
The new investigation comes after election officials secured several voter fraud convictions stemming from last year's election in Ohio, including that of one poll worker who was accused of voting six times in the November presidential election.
Melowese Richardson, 58, is serving five years in prison after being convicted of four counts of voter fraud. Prosecutors said she repeatedly had voted in the name of her sister, who has been in a coma since 2003, and that the illegal votes Richardson cast were counted in both the 2008 and 2012 presidential elections. She also was accused of illegally voting in November's election in the names of other people, including her granddaughter India Richardson, who told Fox News that "it wasn't a big deal."
A Cincinnati nun also pleaded guilty to illegal voting as part of the ongoing voter fraud investigation.
You might also like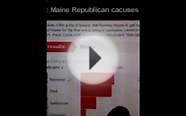 VOTER FRAUD MAINE CAUCUS 2012 ELECTION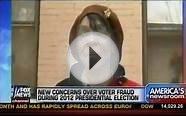 New Concerns Over Voter Fraud During 2012 Presidential ...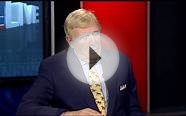 Can voter fraud taint the 2012 election?
Vote Presidential Election Day 2008 USA Mouse Mat Pad Mousepad


PC Accessory (Love Mouse Factory)




This 9.25 x 7.75 rectangular mousepad is made of a durable heat-resistant polyester fabric top
Backed with a neoprene rubber non-slip backing, keeps the mousepad from sliding.
The mousepad is 1/8 thick. It will not discolor or fade, machine washable.
CafePress 2016 President Election Republicans Donald Trump Real Change Sticker


Home (CafePress)




Our stickers are printed on 4mil vinyl using water and UV resistant inks meaning no fading in the sun or bleeding in the rain.
Size: 3 x 5
Available in Opaque (white) or Transparent (clear)
Printed on durable 4mil vinyl adhesive
Unique Funny Design stick on Sticker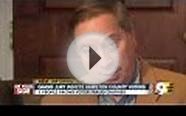 Obama Supporters Charged With Voter Fraud In 2012 Election ...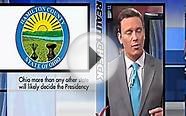 The 2012 Presidential Election Fraud Already Begins!!!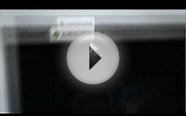 2012 PRESIDENTIAL ELECTION VOTER FRAUD ~ VOTING MACHINE ...
Mashed Clothing Vote For Bernie - President 2016 Bernie Sanders Election Adult T-Shirt (Sport Grey, Medium)


Apparel




Premium heavyweight 6.1 ounce cotton.
Short sleeve shirt details: Small = 18 inches wide and 28 inches long; Medium = 20 inches wide and 29 inches long; Large = 22 inches wide and 30 inches long; X-Large...
Support your candidate with these great tees! Click on Mashed Clothing Election Headquarters above to see the entire collection of Election 2016 items!
This item is also available as a combo pack with a trucker hat!

Vote Trump For President 2016 Republican Party Presidential Election Stars Blue Poster - 18x12


Home (Robin Hood Merchandise)




Officially licensed and professionally printed
Vivid image will enhance any decor
Ships rolled in secure cardboard tube

Election 2012: Mass Debate


Mobile Application (Rocket Alien, LLC)




Choose between Barack Obama or Mitt Romney, select the policies that matter most to you, then start the debate.
Experience high-quality animated 3D models of Barak Obama and Mitt Romney while listening to exciting music!
Watch fun and surprising videos dynamically combined depending on your chosen policies!
Play the game time and again to see how your votes affect the candidates actions and find out who wins the election!
Share with friends via Facebook or Twitter!