Wisconsin ballots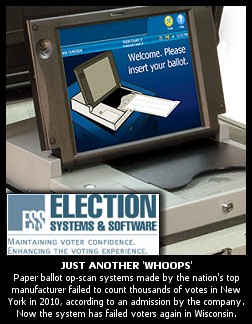 Popular, oft-malfunctioning computer tabulator used in WI, many other states, tallied just 16 votes out of 5, 350 cast in Stoughton, WI...
UPDATED: Hand-count finds 4, 440 YES votes, 992 NO votes...
Though some 5, 350 voters are known to have voted in the city of Stoughton in Dane County, Wisconsin on Tuesday, just 16 of those voters were interested in voting in a local ballot referendum calling for an amendment to the U.S. Constitution to help overturn the infamous Citizens United decision - at least according to the results reported by paper ballot optical-scan computer tabulators there.
"A malfunction with the voting machines in Stoughton Tuesday led to an incomplete outcome of the city's referendum on whether to amend the U.S. Constitution, Stoughton clerk Lana Kropf said, " according to a terse and somewhat cryptic report in the Wisconsin State Journal on Thursday.
"Never in my years working in clerks' offices have I seen something like this, " Kropf told the Journal.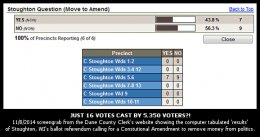 The initiative in question was added to the ballot after citizens gathered enough signatures last July to have it included on the November ballot. According to the wording of the measure, it seeks "to reclaim democracy from the expansion of corporate personhood rights and the corrupting influence of unregulated political contributions and spending." It is similar to referenda passed overwhelmingly in other WI communities.
"Last Tuesday, nearly 5, 350 good citizens of Stoughton went to the polls, " writes Karen McKim of the progressive Wisconsin Grassroots Network. "If you believe the city's voting machines, exactly 16 of them had an opinion they cared to express on the matter. The rest thought 'Whatevs' and left the referendum blank."
She adds: "Fortunately, no one believes the city's voting machines"...
1. Only human beings - not corporations, limited liability companies, unions, non-profit organizations, or similar associations and corporate entities - are endowed with constitutional rights, and
2. Money is not speech, and therefore regulating political contributions and spending is not equivalent to limiting political speech.
The city of Stoughton's measure was the only item to appear on the back of the hand-marked paper ballots in Stoughton last week. But is it possible that only 16 voters out of more than 5, 000 turned over the ballot to notice it and/or had an opinion on the resolution either way?
Well, the good news is, we now appear to know what actually happened and should be able to determine what last Tuesday's voters really thought about the referendum.
The bad news is, whatever caused this problem could easily have affected any number of other elections in any number of other places both in Wisconsin and elsewhere where identical and similar tabulation systems are used. Without a hand-count of those ballots, it's just as likely that nobody would ever notice a similar problem.
You might also like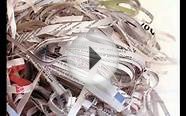 Ballot-Shredding in Wisconsin Supreme Court Race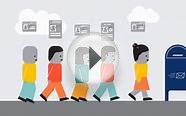 BRING IT TO THE BALLOT - Absentee Voting in Wisconsin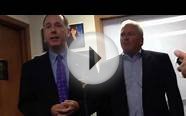 Lawsuit over Wisconsin ballots dismissed
The coupon ballot: Memorial of Moncena Dunn, of La Crosse, Wis., relative to the coupon-ballot system as authorized by the laws of Wisconsin ([United States] 61st Cong., 3d sess. Senate. Doc)


Book (Govt. Print. Off)