Massachusetts State Board of Elections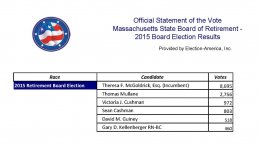 ELECTION UPDATE:
The 2015 State Retirement Board Election is now closed. Voting ended on Friday, March 20, 2015. The election results are as follows:
Thank you to all members who participated in this election.
IMPORTANT BOARD ELECTION NOTICE
If you vote via the paper ballot, please DO NOT mail the ballot to the MSRB office. The paper ballots must be mailed to the address printed on the ballot:
Election-America, PO Box 151, Mineola, NY
Pursuant to Massachusetts General Laws c.10, §18 and c.32, the Massachusetts State Board of Retirement ("Board") is conducting a regularly scheduled election for one of the two elected positions to its five-member Board. The elected member will serve for a three-year term without compensation beginning April 2015.
All qualified members of the Massachusetts State Employees' Retirement System, are entitled to vote either online or by mail. The nominees below qualified as candidates for election.
The following nominees qualified as candidates for election:

1. Thomas Mullane
4. Sean Cashman
2. David M. Guiney
5. Theresa F. McGoldrick, Esq. (Incumbent)
3. Victoria J. Cushman
6. Gary D. Kellenberger RN-BC
Official ballots were mailed on Thursday, February 4, 2015 and must be returned by Friday, March 20, 2015 to the Board's designated agent. Look for your ballot in the mail. Review the candidate information on the back of the ballot before you make your selection. Alternatively, you can vote online at You may only vote for ONE candidate.
IF YOU CHOOSE TO VOTE ONLINE, PLEASE GO TO:
Enter your unique Election Code. (Located on your paper ballot)
Enter your unique Voting PIN. (Located on your paper ballot)
Follow the on-screen instructions. Online voting ends at 11:59 p.m. EST on March 20, 2015.
TO VOTE BY MAIL VIA THE PAPER BALLOT: [DO NOT MAIL YOUR BALLOT TO THE RETIREMENT BOARD OFFICE]
Vote for one (1) candidate by completely filling in the circle next to the candidate's name.
Affix a postage stamp to the pre-addressed ballot/postcard and drop it in the U.S. mail. [No envelope is required!]
Your paper ballot must be received by ELECTION-AMERICA by March 20, 2015, so please allow for ample mailing days.
You might also like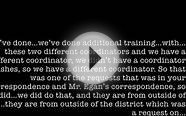 Orange County Board of Elections - Commissioner Susan ...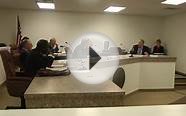 NC State Board of Elections Meeting -- 1/27/2012
1944 Ad United States Rubber Co Logo Tires Car Parts Vote Election New York - Original Print Ad


Entertainment Memorabilia (Authenticated)




Product Type: Original Print Ad; Black / White
Grade: Very Fine
Dimensions: Approximately 9.5 x 13 inches; 24 x 33 cm
Authentication: Serial-Numbered Certificates of Authenticity w/ Full Provenance
Packaged in custom sleeve w/ archival black board (great for display, gift-giving, and preservation)
Popular Q&A
What is the address to the Massachusetts state board of cosmetology?
Massachusetts Board of Cosmetology, 239 Causeway Street, Boston, MA, 02114. Tel: 617.727-3067 .
What is the number to the Oklahoma State election board?
Oklahoma State Election Board Room B-6, State Capitol Building PO Box 53156 Oklahoma City, Oklahoma 73152 Telephone 405-521-2391