Voter information Nebraska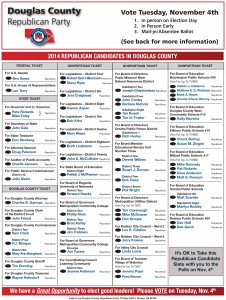 VOTE EARLY – MAIL-IN / ABSENTEE BALLOT
You can request an early voting ballot through October 29th. They must reach the election commissioners office or a drop box location by 8:00 p.m. on November 4th. click .
VOTE EARLY – IN PERSON
You can vote early in person at the Douglas County Election Commission from now until election day at 8:00 p.m. For map and directions click .
Thank you to all of the volunteers, donors, voters, and everyone who contributed in any way to our efforts at the Douglas County Republican Party. From our "100% Effort" which placed our Republican Candidate Slate in the hands of every Republican voter, to our volunteers who helped with candidate recruitment, preparing and placing yard signs, making donor and GOTV phone calls, waving candidate signs, and walking neighborhoods. We couldn't have been successful without you. I am truly proud to be a Republican! In the future, visit this page for a copy of our DCRP Candidate Slate to email to your friends and take to the polls with you. Thank you for your continued support, Bryan Baumgart Past Chairman, DCRP (402) 920-0853
The great Campaign of 1896, or, Political Struggles of Parties, Leaders and Issues Including Platforms of All Parties and Bographies of the Presidential Candidates Forming a Complete Handbook of Political Information, Voter's Guide and Instructor for 1896
Book (Loyal Publishing Co.)
Living issues of the campaign of 1900: Its men and principles, covering every phase of the vital questions of the day; expansion and our new ... information, voter's guide, and instructor
Book (W.H. Ferguson)