National Mail Voter Registration form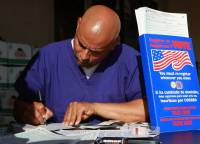 California Voters Sign Up On Last Day Of Voter Registration Drive. Justin Sullivan/Getty Images
Thanks to the National Voter Registration Act, also called the "motor voter" law, it has never been easier or more convenient to register to vote. Under the law, all states except North Dakota and Wyoming are required to allow citizens to register to vote by mail using the universal mail-in voter registration form maintained by the U.S. Election Assistance Commission (EAC). North Dakota does not require voter registration and Wyoming does not allow voter registration by mail. In New Hampshire, town and city clerks will accept this application only as a request for their own absentee voter mail-in registration form.
How to Register to Vote Using the Mail-in Form
You can get the mail-in voter registration form by calling your state election office or your state's League of Women Voters or by simply downloading the form directly from Election Assistance Commission.
Before you fill out the form, check the special instructions for each state.
Fill out the form according to the instructions and mail it to the address shown for your state. By folding it along the dashed lines, the form becomes its own envelope. Just be sure to attach a first-class stamp.
Your state election office will process your form and notify you by mail that your registration has been approved and where you should go to cast your vote on election day. Some states will also send you a voter registration card, which you should take with you when you vote.
Other Places You Can Register to Vote
Under the "Motor Voter" law, states are also required to make voter registration available in many public agencies.
Stated departments of motor vehicles must make voter registration available as part of the process of applying for or renewing a driver's license or non-driver state identification.
Many states also offer voter registration at state office buildings, public libraries, and schools.
You might also like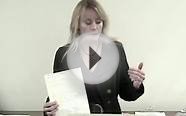 Voter Registration Training - Citizen Power Campaign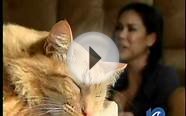 Local cat receives voter registration forms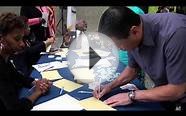 National Voter Registration Day
Electrical Instrumentation


Mobile Application (Ashish Kumar)




This unique free application is for all students across the world. It covers 280 topics of Electrical Instrumentation and Process Control in detail. These 280 topics...
Each topic is around 600 words and is complete with diagrams, equations and other forms of graphical representations along with simple text explaining the concept...
This USP of this application is ultra-portability . Students can access the content on-the-go from anywhere they like.
Basically, each topic is like a detailed flash card and will make the lives of students simpler and easier.
Some of topics Covered in this application are:
1. Introduction to AC Electricity
2. Circuits with R, L, and C
3. RC Filters
4. AC Bridges
5. Magnetic fields
Popular Q&A
Mailing in voter registration form? | Yahoo Answers
You can use a regular envelope.
Where do I mail a South Carolina voter registration form?
Board of Voter Registration 102 Court Square PO Box 417 Abbeville, SC 29620 (864) 366-5312, Ext108 Fax (864) 366-5797