Maryland early voting sites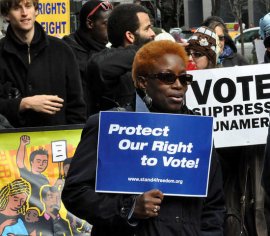 The Republican majority on the Montgomery County, Maryland board of elections is using the same playbook as North Carolin Republicans, apparently. They've decided to close two early voting sites in the county where there are more blacks and Democrats, moving them to lower population, white, Republican communities. The advantage for Montgomery County voters is a Democratic County Council that is fighting the closures.
James Shalleck, the Republican chairman of the elections board, told a Montgomery County Council committee on government operations that the decision was made to add "geographic diversity" to the county's nine early voting sites.
Council member Tom Hucker, a Democrat, served as a delegate in Annapolis and pushed for early voting in the state. He questioned the process that led the elections board to close two early voting sites and move them to areas of the county where the population density is lower. Hucker cited the law that established early voting, saying it was intended to put early voting centers in densely populated areas.
Also, Hucker quizzed board chairman Jim Shalleck about where and how the idea to close the Chevy Chase and Burtonsville sites came from. Shalleck told him that he had consulted with Republican Party central committee members in a phone call. Hucker wanted to know if other elections board members were included on the call. David Naimon, a Democratic member of the board, told Hucker he was not included in that phone call.
In fact, none of the Democratic members of the elections board were in on that call with Republican Party, and all were pretty much blindsided by the decision to move the polling sites. That might have been a violation of state law, as pointed out by Democratic State Sen. Jamie Raskin. State "open meetings law, " he pointed out, "says that a majority of members of a public body cannot meet outside of a public context in order to make decisions." State legislators might get in on the act, attempting to pass emergency legislation to add more early voting sites if the board doesn't reverse its decision at its October 15 meeting.
This might not be blatant voter suppression like we're seeing in Alabama, but that's ultimately what it is. Just like in North Carolina, what these Maryland Republicans are attempting to achieve is to make it easier to vote for whites and Republicans and harder for black and Latinos and Democratic-leaning voters. Two states taking this action isn't necessarily a trend, but it's enough to put this sneaky tactic of voter suppression on the radar.
You might also like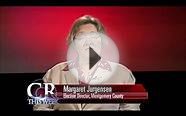 Montgomery County Expanding Early Voting Centers for 2014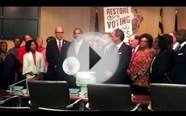 Will Jawando On Early Voting Sites, Rockville, MD, 10/13/15
Early pickup of ballots in optical scanner voting system counties : hearing of the Assembly Committee on Elections and Reapportionment, November 15, 1978, San Diego, California.
Book (California State Assembly : may be purchased from Assembly Publications Office)
Popular Q&A
Where are Early voting sites,for austin, texas?
Most locations are open Monday-Saturday, 7am-7pm and Sunday, noon-6pm. 1) Albertson's North Lamar, 11331 N. Lamar @ Braker MORE?
What are Early vote sites by zip 78207 San antonio tx?
Go to Collins Garden Library at the Address 200 N. Park Blvd. * San Antonio, TX 78204-2434.