California Election polling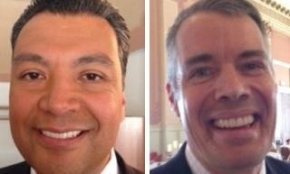 The latest Field Poll shows Democrat Alex Padilla leading by seven points over his Republican challenger Pete Peterson in the race for secretary of state, California's top elections official.
Padilla has the support of 44 percent of likely voters, while Peterson registers at 37 percent, with 19 percent undecided.
"I'm a product of public schools, " Padilla said. "My background is in mechanical engineering, but I'm so thankful that life brought me in the direction of public service."
Padilla, a Democratic state senator from Los Angeles, said he feels like he's living the American dream.
"This is where I grew up, " Padilla says in a TV ad. "My mom cleaned houses. My dad worked as a short-order cook. And they taught me that with hard work and education, anything is possible."
Republican Peterson has far less money on hand and is running radio ads.
"There's a reason nine of 10 of California's major newspapers have endorsed Pete Peterson, " the announcer says in one spot.
Peterson teaches at Pepperdine University in Malibu, where his focus is on using technology to get more people involved in public policy.
"I have a unique passion and background for not only civic engagement, but improving our small business climate, " Peterson said. "With an election system that recently ranked 49th out of 50 states and with all the problems that small businesses face with this office, it's time for an outsider with experience to take the reins here."
Both candidates said they are committed to reforming the secretary of state's office.
"Some of the proposals I had in the Legislature this year I think are going to be the starting point when I'm secretary of state, " Padilla said.
He added that he is "calling for a fundraising blackout period toward the end of session. So, we see a true separation between political activity of legislators and the most important votes being (cast) in the legislative year."
Peterson said, "One of the reasons I'm running for office is, I don't think there's been a lot of transparency as to how money's being spent there. I also think and I've pledged that I would put my own personal calendar up online so that Californians would be able to see what their secretary of state is doing."
In California's June primary, most voters stayed away from the polls.
In fact, only 25 percent voted, which is the lowest ever turnout for a statewide election in California, according to current Secretary of State Debra Bowen, who is termed out in December.
KCRA 3 asked both candidates what they would do to increase voter turnout.
Peterson said he believes in "moving toward voting centers - regionalized voting centers so that for people who have to commute a long distance on Election Day, that there's a much greater opportunity to have a polling place that would be operated much more closely to where they work."
Padilla said, "There's no reason we can't have more early voting in California. It's more convenient to get out on Saturday or Sunday before that Tuesday election."
California's database, Cal Access, has been criticized as being outdated and outmoded.
So, how would the candidates plan to update the system?
"We're going to revolutionize it by bringing in some of the best technology minds, " Padilla said. "And so, I look forward to integrating technology experts to put the information together in a way that's not just available to the public - but much more user-friendly and reliable."
You might also like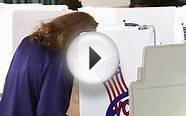 California primary election day: LA County voter turnout low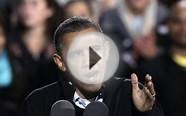 California Polls 2012: Closing Time, Opening Time ...
The Provisional Pulpit: Modern Presidential Leadership of Public Opinion (Joseph V. Hughes Jr. and Holly O. Hughes Series on the Presidency and Leadership)
Book (Texas A&M University Press)
Popular Q&A
Election Polls for California? | Yahoo Answers
Pleasese vote NO on proposition 2 it will raise egg prices through the roof and make eggs less safe and chickens also as Californians will only be getting them from Mexico. Also it was presented by a Vegan gogrouphat wants to take meat and eggs off your plate. HSUS is Vegan ththeyre against eating any animal products this is just a memeanso get to ththeiroal by making animal products more expensive.
And the AVMA says they are healthier the way they are

What time do California polls close on Election Day?
In California, for the 2012 General Election on November 6nd, the polls open at 7:00 am and close at 8:00 pm.