Voter Demographics General Election 2015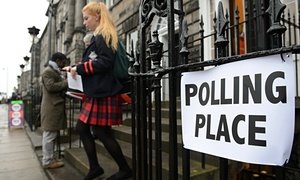 The Scottish independence vote shows that young people will turn out if they feel engaged by the political process. Photograph: Leon Neal/AFP/Getty Images
So why bother trying to convince them?
While political parties are not being this openly downbeat about it yet, young people are undoubtedly becoming an ever-declining force in UK electoral politics.
Why is this the case?
1. Young people are less likely to vote
Several columnists and .
The rate did go up by 13.6 percentage points between the 2005 and 2010 elections, when 51.2% of young people voted – but it was still way behind the 66% national turnout for all of the electorate.
2. The UK has an ageing population
The makeup of the British electorate is, albeit slowly, skewing towards older voters.
Over 65s are making up a bigger chunk of the electorate and they are more likely to vote. As a result they have a disproportionately large sway over the election outcome.
A cynic would say that this means that it's much less pressing for political parties to formulate policies to benefit young people as it's less likely to get them votes. At the end of the day, it's the grey vote that decides elections
Although it's not as cut and dry as this – as the Liberal Democrats are likely to painfully find out after their U-turn on tuition fees – offending young voters is much less of a risk for more conservative parties.
But where can young people actually make a difference?
Nevertheless, there are still quite a few seats where attracting the votes of under 25s might be crucial to whoever wins.
While there is no age-breakdown of eligible voters by constituency, we do have it for the mid-year population estimates for 2013 from the ONS. This gives us a good picture of the age composition of the electorate for each seat despite including, for example, migrants who are ineligible to vote.
We found 35 seats in England and Wales where at least 20% of the voting age population was between 18 and 24. Just below half of these (17) were marginals in the 2010 election – by that we mean the gap between the winning and second place party was 10 percentage points or less.
Foremost among these is the Labour-held (and student heavy) seat of Sheffield Central where over a third (38%) of the voting-age population is under 25. The MP for the seat, Paul Blomfield, won against the Lib Dems in 2010 by just 0.4 percentage points – although the race this time round is unlikely to be as close.
Other key seats to watch out for in May include Nottingham South, Birmingham Selly Oak and the Conservative-held Plymouth, Sutton and Devonport. We've listed all of the seats below.
You might also like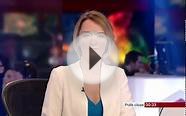 BBC: 2015 General Election (Part 1 of 2)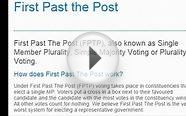 The 2015 British General Election
Young Voters: UK General Election 2015
1880 GENERAL ELECTION MIDDLESEX SOUTHWARK VOTES


Home (old-print)




Special indroductory offer
Original old antique victorian print, not a modern reproduction
100% Satisfaction Guarantee
Size and details in description below, Email for any missing image or description
Shipped WORLDWIDE next day, AIRMAIL from head office in Scotland allow 15/21 days for delivery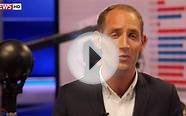 General Election 2015: Voters Decide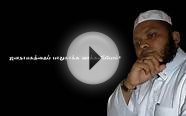 General Election 2015
Popular Q&A
what are the 2008 general election voter demographics? Age, race, income, region of country, etc. ? | Yahoo Answers
age -old race -white income- middle class region- northeast never missed a vote