New York General Election 2014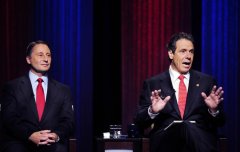 Andrew Cuomo, right, & Rob Astorino (photo: Gary Wiepert/AP)
All three major statewide elected positions are held by Democratic incumbents asking New Yorkers to renew their contracts for four more years. Voters will go to the polls on Election Day - Tuesday, November 4 - and decide if Governor Andrew Cuomo, Attorney General Eric Schneiderman, and Comptroller Tom DiNapoli deserve such an extension.
There's a lot at stake on Election Day: not only who holds those three offices (along with the other statewide post of Lieutenant Governor, which is voted on in conjunction with Governor); but also control of the State Senate, which will have a major influence on the legislation that comes through Albany over the next four years. The other house of the State Legislature, the Assembly, is heavily Democratic and certain to stay that way. Voters will be able to select their local representatives in these two state houses - although in many cases incumbents are actually running for re-election unopposed.
Key issues at stake next year include the Dream Act, the Women's Equality Act, campaign finance reform, the future of state and local minimum wage levels, the cap on charter schools, renewal of rent regulation laws, and much more. If the Democrats were to take control of both houses of the State Legislature and return Gov. Cuomo to his post, a large swath of progressive legislation could move through Albany. That is a very big "if, " of course.
Additionally, on Election Day voters will be choosing their local members of the U.S. House of Representatives. In New York City (and around the state and country) many are watching to see the outcome of the race in New York's 11th Congressional District, where incumbent Republican Rep. Michael Grimm is facing Democratic challenger Domenic Recchia. Grimm is the only Republican representing New York City in Congress. There are several other highly competitive congressional races happening around the state.
And, don't forget to turn your ballot over: there will be three ballot proposals on which New Yorkers will be able to vote "yes" or "no" to amend the State Constitution. More on all of the above below; use our Gotham Gazette-WNYC Election Guide if you want to see who will be on your ballot or just explore:
You might also like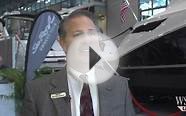 New York Boat Show 2014: Top Tech & High Luxury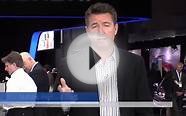 James Bell - 2014 New York Auto Show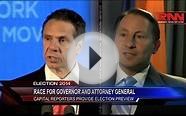 Election 2014 — Race for NY Governor and Attorney General
Photo Jigsaw Puzzle of The General Election- The Perplexed Voter


Home (Prints Online)




PHOTO JIGSAW PUZZLE You are purchasing one Photo Puzzle (252 Pieces). Estimated image size 356x254mm
10x14 Photo Puzzle with 252 pieces. Packed in black cardboard box of dimensions 5 5/8 x 7 5/8 x 1 1/5. Puzzle artwork 5x7 affixed to box top. Puzzle pieces printed...
Artwork Description A perplexed voter scratches his head in confusion as two candidates from opposing political parties canvas for his vote.
For any queries regarding this choice of artwork please contact Prints Online quoting Reference 4474
Artwork chosen by Prints Online. (c) Mary Evans Picture Library 2015 -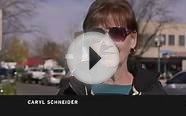 Midterm Elections 2014: Why I'm Not Voting | The New ...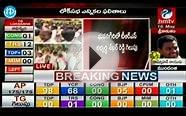 BJP Creates New History - 2014 General Elections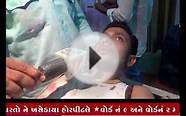 17-07-2014,ivn24news,junagadh election,lion,sasangir ...
Popular Q&A
Which presidential candidate won new york state in 2004 general election
Kerry won New York in the 2004 election. Thank you for using