Arizona Polling results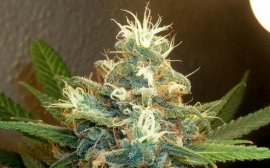 A new poll suggests marijuana legalization has "strong support" in Arizona.
The poll from Arizona State University Morrison Institute for Public Policy asked Arizonans what they'd like to see done regarding marijuana in Arizona, and found that 45 percent supported full legalization, while 42 percent support a medical-only program, and 13 percent want marijuana completely outlawed in the state.
There have been at least four other polls of Arizonans regarding marijuana legalization over the past few years, with the level of support varying between a low of 36 percent and a high of 60 percent. (1, 2, 3, 4.)
According to a statement accompanying the new poll results, it's noted that support for legalization skewed toward younger people - who are less likely to vote.
"However, if the issue is important enough to young adults they may vote in larger numbers than is typical, " poll director David Daugherty says in a statement. "If that happens, full access to marijuana could be adopted."
Mason Tvert of the Marijuana Policy Project tells New Times he doesn't have much confidence in this particular poll.
"i don't know how they could have worded this poll any worse, " he says.
Tvert points out that the proposal would be for legalization of people aged 21 or older, although the pollsters asked about age 18. Plus, they asked the question by comparing legalization, medical use, and a complete ban, instead of asking people whether they support legalization, or do not. Tvert adds that he would expect a straight-up poll of Arizona voters to show at least 50 percent support.
Arizona's medical-marijuana program was approved by voters in 2010, but with full legalization becoming a reality in other states, pro-pot advocates are eyeing a possible 2016 legalization ballot measure in Arizona.
The Marijuana Policy Project, a national organization that's backed legalization efforts in other states, announced in October that it's going to work toward a citizen's initiative to legalize pot in Arizona.
There was an effort to get the issue on the ballot in 2014, but the organization behind it - which did not have significant financial backing - failed to collect the required number of signatures.
Avg Internet Security 3 Year / 3 PC


Software (Avg Security)




Virus removal and prevention
Identity protection
Social networking protection
Antivirus
Protective cloud technology