Absentee ballots Los Angeles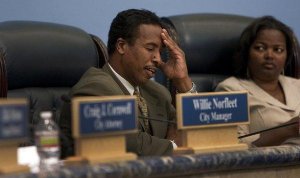 Compton Mayor Eric Perrodin tries to keep his composure at a 2011 City Council… (Gina Ferazzi / Los Angeles…)
Several absentee ballots in Compton that should have been returned to City Hall after they were found to be undeliverable instead ended up in bins slated for recycling outside a post office. Officials said allegations of voter fraud appeared to be unfounded.
A candidate in Compton's municipal election complained of potential fraud Tuesday after discovering bins containing what appeared to be hundreds of absentee ballots behind the post office on Santa Fe Avenue.
City Manager Harold Duffey said he and other city officials, as well as members of the Los Angeles County Sheriff's Department, went to the post office after hearing the allegation and found a crowd there, including several candidates running in the city's April 16 primary election.
Duffey and sheriff's officials observed while Postal Service staff searched through all 13 bins of mail slated for recycling. They found that most of the election items actually were undeliverable sample ballots, Duffey said.
But they also found five absentee ballots in their original envelopes. The absentee ballots should have been returned to City Hall if they could not be delivered.
"If there was an error, it was something in the post office, not voter fraud, " Duffey said.
U.S. Postal Service spokesman Richard Maher said the agency had investigated and found that there was "no fraud, no non-delivery of any deliverable election mail and no voter disenfranchisement" and that the five absentee ballots had been returned to the city clerk.
"This was a week's worth of Standard Mail for the recycler, so we are confident that those five absentee ballots were the only undeliverable ones that were almost not returned to the City Clerk, " he said.
Maher said it was not unusual to see a large number of undeliverable sample ballots, since about 14% of the population moves each year.
Compton's election is likely to be contentious. The mayor's seat and two council seats are up for grabs. Twelve candidates are vying for the mayor's seat, and the council races will be conducted for the first time under new districts that came about as the result of a voting rights lawsuit by Latino residents.
Voters will also decide on a ballot measure that would require the city to keep the Sheriff's Department as its police services provider unless residents vote otherwise in another election.
The measure was initially a reaction to the city's attempt to bring back the Compton Police Department, which was dropped in April 2011 when it became apparent that the city was facing a multimillion-dollar budget deficit.
Apple iPhone 5/5S Case AbsentaeBallet Why I Hate Voting And Why Iu002639m Going To Do It Anyway The Full Wrap iPhone Case


Wireless (Zhihanslive)




Give your iPhone 5/5S a new style protect your iPhone with very beautiful wrap.
It s very slim light case can protect your iPhone from scrach and dust.
Perfect fit and easy installation.
Precise cutouts gives you total access to all functionality and buttons.
Images printed on cases are high resolution and do not peel or fade!