Election Day Voter Registration
But, we know there are still potential voters who need to register. Help us reach unregistered voters before their state's voter registration deadline passes – send our eCard to people you know who have moved, turned 18, changed their name or recently became a citizen!
There are thousands of important offices at stake across the country on Election Day 2015 – November 3 – that impact our lives every day, not to mention the upcoming presidential primaries in early 2016. The people we choose to represent us will have an enormous impact on our lives, so registering to vote and participating in our democracy remains as crucial as ever.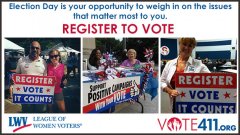 Voter registration is the key to ensuring that all Americans can engage in our political process. Share our eCard with your friends and family and remind them about the importance of weighing in on the issues that matter most to them.
We're all equal on Election Day, and every one of us has the chance to stand up for the issues that matter most to our families, our communities and our country. Voter registration deadlines vary by state and for some states, the deadlines to register to vote on Election Day 2015 are quickly approaching. Help us make sure no one is left out.
Don't forget, if you have moved or changed your name since the last time you registered to vote, you will likely need to update your voter registration information. Check your current registration status.
Together, through our votes, we can take control.
Election Day 2015 is coming! Now is the time to remind the people in your life to visit VOTE411.org to register to vote, make sure that their voter registration record is up-to-date and learn about important voting rules and deadlines in their state.
You might also like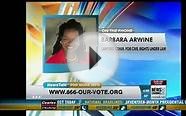 News Election Day Voter Tips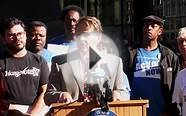 National Voter Registration Day 2015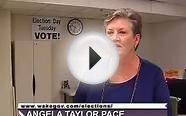 Voter Registration