Mass Election Day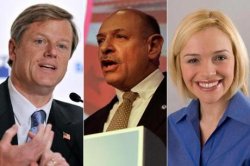 Gubernatorial candidate Charlie Baker (left) may have to run without a fully functioning party apparatus. Mark Fisher (center) is pressing a lawsuit against the party in an effort to force a gubernatorial primary. GOP chairwoman Kirsten Hughes (right) is under fire from the conservative wing of the party.
With state elections just six months away, Massachusetts Republican activists are engaged in a bitter clash over everything from the party's leadership and its values to its odds of prevailing in a lawsuit that threatens to drain the party's already strained resources and energy.
The rancor has yet to seriously threaten the party's best prospect this year, Charlie Baker, who is running for governor. Objective analysts think Baker has good odds of beating a Democrat in the November gubernatorial race, though he may have to do it without a fully functioning party apparatus.
But other statewide GOP candidates are struggling to get signatures to qualify for election. With Tuesday's deadline to submit signatures imminent, several candidates who are new to state politics and depending on the GOP for help are in danger of not qualifying for the September primary ballot, said a Republican operative with direct knowledge of the signature collection effort.
The leading cause of division is a lawsuit from a second gubernatorial hopeful who is disputing the vote that disqualified him as a primary challenger. The candidate, Mark Fisher, contends that he won the required number of votes at the party's March convention, but was unfairly disqualified because the party failed to follow its own rules.
State committee members, worried that the case is giving the party a black eye, have started to lose faith in the party leadership's ability to contain the damage, if not the suit itself. One group is circulating a petition calling for a meeting to discuss putting Fisher on the primary ballot. Another is demanding to know the cost of litigation, worrying that the legal dispute will drain the budget of funds needed in an election year.
GOP leaders further antagonized some state committee members last week with an aggressive maneuver to install a favored candidate — who was once an aide to former US senator Scott Brown — in a vacant Boston committee seat that could determine control of the party. Activists complained that the quickly scheduled caucus prevented them from getting out their supporters. Officials said they adhered to bylaws.
For party critics, the raft of problems is a signal of mismanagement by an old guard determined to maintain its grip on power.
"We elect these people to be stewards of the party, but too often when they act, they bring disdain and dishonor to the party, '' said Steve Aylward, a state committee member who leads one dissident faction. "I am really disappointed in our leaders. I am tired of it, and it has to stop."
GOP leaders counter that many of their critics are social conservatives who are trying to hijack the party to steer policy in their direction.
You might also like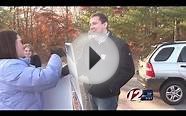 Mass. Candidates Greet Voters on Election Day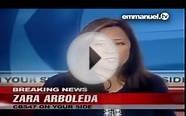 Election Day Mass Shooting Foretold by Prophet TB Joshua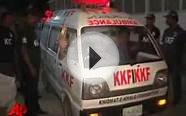 Raw Video Mass Death Karachi Shootings on Election Day.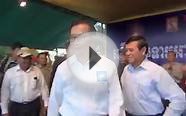 Mass Protest Day 2 in moto, Demand Re-election 16/12/2013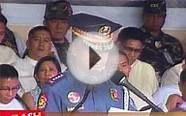 Soldiers assigned to work on election day attend Mass
Stnanhai SUPER DEALS Quality guaranteed,Indoor/Outdoor light box displays sign,backlit two faces battery powered for Election Day promotion


Office Product (stnanhai)




The hottest light box
Light weight
Easy installation
Free Shipping,door to door
It can move to anywhere you want
Popular Q&A
What is the mass media's role in elections?
Television, Movies and Newspapers