States Electoral College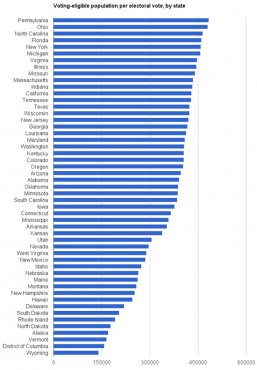 New York state recently signed on to the National Popular Vote movement, an interstate compact designed to do an end run around the Electoral College, which as everybody knows is an outdated institution that at its worst can throw the presidency to the guy who failed to win the popular vote. :
Here's how it works: Suppose you could get a bunch of states to pledge that once there are enough of them to possess at least 270 electoral votes — a majority of the Electoral College — they will thenceforth cast all their electoral votes for whatever candidate gets the most popular votes in the entire country. As soon as that happens, presto change-o: the next time you go to the polls, you'll be voting in a true national election. No more ten or so battleground states, no more forty or so spectator states, just the United States — all of them, and all of the voters who live in them. [, I divided each state's voting population by its electoral votes. This gives us the number of eligible voters it takes to obtain a single electoral vote. And here's the chart:
Wait, Pennsylvania is number one? And California isn't even in the top 10? What is going on here? Just out of curiosity, I plugged in raw voting-age population instead (that is, not excluding people who are ineligible to vote) and produced another chart: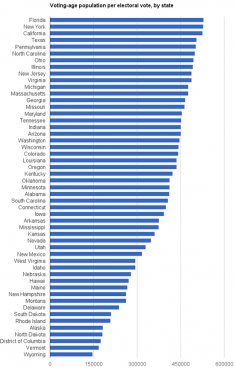 That's more like it. It turns out that many states have huge populations of people who are ineligible to vote. California and Texas, for example, have 5.1 million and 2.6 million non-citizens, respectively, which cuts down their voting-eligible populations significantly. Florida, meanwhile, has slashed its voting population by over 10 percent through the disenfranchisement of felons. (Ironically, this makes its position in the Electoral College look "fairer, " since by raw population the Sunshine State comes out the worst.)
In any case, as Hertzberg makes clear, every state that doesn't have a delicate ideological balance is actually getting screwed by the Electoral College — that is to say, practically all of them. However, it is still striking to note that the vote of a Wyoming resident is weighted nearly three and half times more than that of a Pennsylvania resident. Not to mention that it's theoretically possible to win the presidency with nearly 80 percent of the population voting against you.
You might also like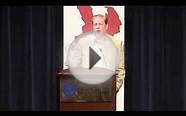 Electoral College Debate (8 of 8)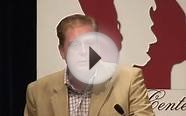 Electoral College Debate (3 of 8)
Electoral College Debate (5 of 8)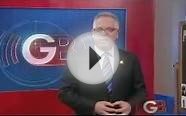 Glenn Beck-6 States Ending Electoral College
LouTube - Electoral college good idea for states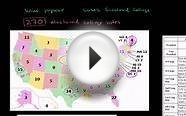 Electoral College
Barack Obama Campaign Live Wallpaper


Mobile Application (Top Flight Apps)




Beautiful pictures for the highest quality wallpaper around!
Easy to use settings, easy to install
Tons of other apps featuring more of your favorites available!!