Texas Voter registration Cards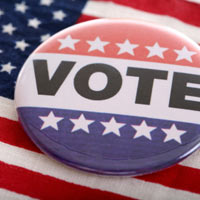 TX Voter Eligibility
You may register to vote any time after you have reached the age of 17 years and 10 months so that your registration can be processed in time for an election falling on or after you turn 18 years old.
Other voter eligibility requirements include:
You must be a citizen of the United States.
You must reside in the county where you are registering.
You must not be a convicted felon. If you have a felony conviction, you must have completed your sentencing, paid your fines, and completed your parole.
You must not have been declared mentally incompetent in a court of law.
Register to Vote in Texas
To register to vote in Texas, you must complete and submit a voter registration application. Postage is paid on official applications.
The official application is available:
At County Voter Registrars' offices.
At the Secretary of State's office.
At libraries, high schools, and many post offices.
You can also get an application by:
On the application, you must provide:
Your TX driver's license number.
A personal identification number from the Texas Department of Public Safety (DPS).
OR
Your Social Security number.
If you DO NOT have one of these numbers, you will be required to show proof of identification at the polls. The TX SOS website provides a complete list of accepted ID.
After you submit your voter registration application to the County Voter Registrar, you will receive a voter registration certificate in the mail to bring with you to the polls.
Deadline for TX Voter Registration
Applications to vote must be either received or postmarked no later than 30 days prior to the election to be able to vote in that election.
Out-of-State Voter Registration
You can register to vote with the Federal Post Card Application (FPCA) IF you are a Texas resident who is:
Military personnel or dependent stationed outside of Texas.
Currently residing overseas.
DBPOWER 2.7" 1920*1080 Full HD Car Black Box Car DVR Camcorder Dashboard Dash Cam with 120°Viewing Angle, 4XZoom Lens, G-Sensor, SOS, Night Vision, Motion Detection, support up to 32GB SD Card
Sports (DBPOWER)
2.7 Large screen, Wider Viewing Angle of 120°, allows you to capture more when driving;
1920*1080P FULL HD resolution. H.264 video compression, HD quality video with smaller file sizes;
Seamless loop recording, don t leak seconds, you will not worry about the SD card will fill up;
Emergency lock button &accident auto detection feature (G-Sensor) can lock current video file;
Automatic on/off function with Free Car Power, leave you hands-free.
Fanstown Luke handmade titanium birthday ring necklace with lomo cards


Jewelry (Fanstown)




Fanstown Luke 5SOS titanium birthday ring necklace, round one with black rope as necklace
Handmade using healthy 316L titanium steel, anti-rust and water proof, very healthy to wear
Size about 7-8,also could wear as necklace,personalize member birthday ring avaiable via message us
Send with pocket lomo cards with gift wrap box
Nice gift for fans
SOS Agent


Mobile Application (Veritas Global Ltd)




Functions of application and service:
1) Detection of the current location of the device.
2) Emergency dispatch of current device location by single touch of on-screen SOS button.
3) Device information. Battery charge level.
4) Alarm sending to device.
5) Routes of device history.
6) Remote control by SMS commands.
7) Remote audio recording. Recorded file is sent to server.
8) Remote photo, sending a file to the server.
9) Remote control with system SMS commands.

Cool Senior Mobile Phone Flip Sos Support Fm Dual Sim Card,camera ,Big Keyboard, for Old Man Phone


Wireless (ylkj)




Dual Sim Card
With Mp3 ,Fm Function
Camera :0.3MP, chinese instruction
2.0 Inch Language: English mix chinese, chinese
Color Gold Black Red

PGD PG88 Real-time GPS Watch Remote GPS Tracking Quad-band Watch 1.3MPx Camera Security Support Unlocked SIM Card with SOS Function for Kids (Black)


GPS or Navigation System (PGD)




Real-time GPS monitoring of positioning /timing positioning Tracking(SMS/GPRS/TCP/UDP).
Supporting the mobile phone, touch screen, Camer, mp3/mp4 player.
Supporting single location and continuous tracking.
Exactly real-time path tracking can correctted to seconds.
Fast Dial-up button(can prestore 3 dial number), Emergency situation you can dial SOS button for accurate positioning.
Popular Q&A
Is Texas going to stop sending out voter registration cards my last card expired 12/2011? | Yahoo Answers
No, I just requested another a few days ago.