Where to Get Voters registration card?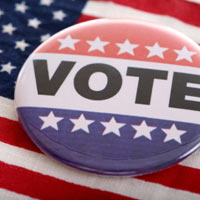 Register to Vote in WA, D.C.
It is everyone's civic responsibility to vote, but you must register first. In D.C., you can register to vote:
Applications should be sent to:
D.C. Board of Elections
One Judiciary Square
441 4th Street, N.W., Suite 250 North
Washington, DC 20001
Registration Deadlines
Deadlines depend on how you register to vote and what type of ballot you want to cast:
If you register by mail, your application must be postmarked no more than 30 days prior to election day.
If you register in person, you must do so:
Before early voting begins to use a regular ballot.
Up to and including election day to cast a special ballot.
Washington, D.C. Voter Registration Eligibility
According to the BOE, to be eligible to register, you must satisfy all of the following:
Be a U.S. citizen.
Be a Washington, D.C. resident.
Be at least 18 years old on or before the next election.
Not be in jail for a felony conviction.
Not have been adjudged "mentally incompetent" by a court of law.
Not claim the right to vote anywhere outside D.C.
Out-of-State Voter Registration
If you are a WA, D.C. resident but you are out of the district on military assignment, as the dependent of military personnel, or living overseas, you can:
Complete the voter registration form, print it, and mail it to the DC BOE. See the section "Register to Vote in WA, D.C." above for more information.
OR
Complete the Federal Post Card Application (FPCA), available online.
This is both an application to register to vote and a request for an absentee ballot.
Name or Address Changes in WA, D.C.
To change your name and/or address on your voter registration card, you must fill out and mail the voter registration form, making sure to include all of your updated information.
Alternatively, you can go in person to the DMV, BOE, or other D.C. agency and complete your registration.
See the section "Register to Vote in WA, D.C." for more information about submitting the application, and be sure to get your information in by the deadline:
Postmarked no more than 30 days before election day, if submitting by mail.
You might also like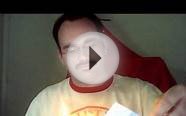 Nicholas Nix Burns his Voter Registration Card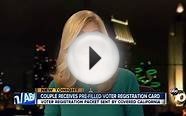 CA. Obamacare Sends Out Voter Registration Cards Premarked ...
How to Register for Voter ID Card through Online
In-hand delivery of post card applications for registration and absentee voting under the Federal voting assistance act : hearing before the Subcommittee on Elections ... Eighty-sixth Congress, second session, on H.R. 8432, a bill to amend the Federal Voting Assistance Act of 1955, to provide in-hand delivery of certain absentee voting material to members of the armed forces and others. August 25, 1960
Book (U.S. Govt. Print. Off.)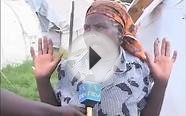 IDPs reluctant to get voters cards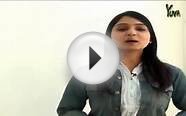 BJP Rajasthan - How to get Voter ID Cards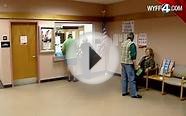 Pickens County residents get new voter registration cards
Popular Q&A
where do you get a voter registration card? | Yahoo Answers
You register to vote, at the Registrar of voters and you will be given a card or one will be mailed to you.
Where do I get a voter registration card?
The forms are available online or you may pick one up: